Join Us for a Night of Fun and Giving at Our Charity Bingo Event!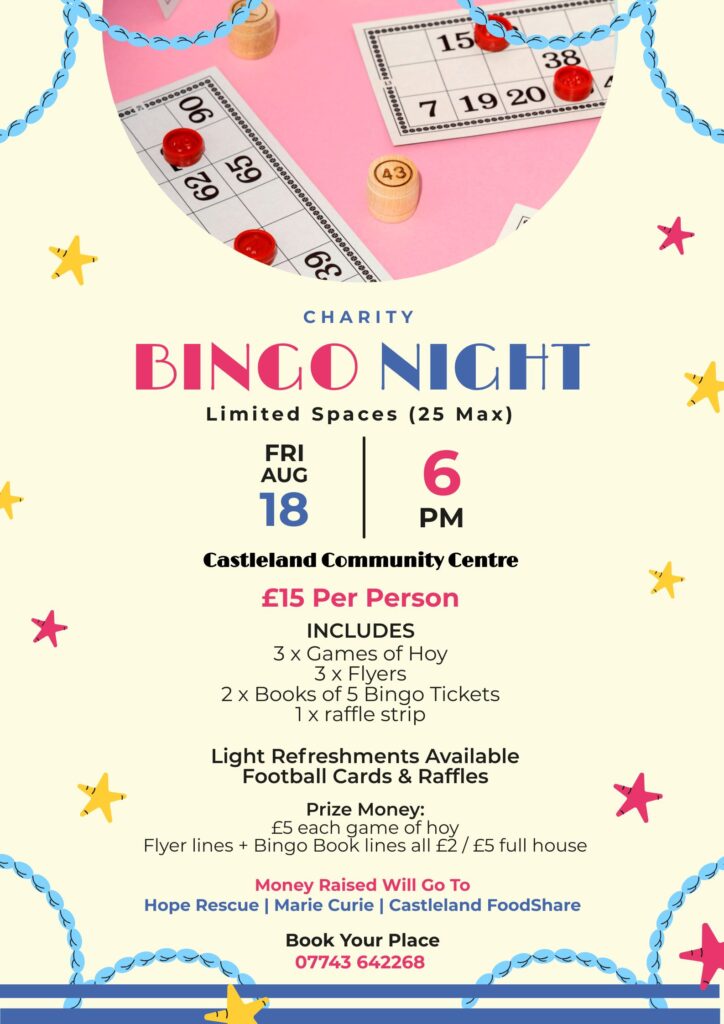 Are you ready for an exciting evening filled with entertainment, chances to win big, and most importantly, making a positive impact in your community?
Look no further than our upcoming Charity Bingo Night! We're thrilled to invite you to an event that promises not only an unforgettable time but also an opportunity to contribute to some incredible causes.
Organised by our awesome volunteer Nadine the evening promises to be a good laugh in aid of a good cause.
Date: Friday August 18th
Time: 6pm – 9pm
Location: Castleland Community Centre
Limited Spaces, Unlimited Fun:
With only 25 spaces available, our Charity Bingo Night ensures an intimate and engaging atmosphere for all attendees. The limited guest list allows us to create a sense of camaraderie and excitement as we come together to play some classic games, all while supporting deserving charitable organizations.
For just £15 per person, you gain access to a memorable evening of entertainment and philanthropy. Your entry fee includes:
Participation in 3 thrilling games of Hoy: Get ready to shout "Hoy!" as you compete for exciting prizes in this traditional game of chance.
3 Flyers: These additional rounds offer extra opportunities to win incredible rewards.
2 Books of 5 Page Bingo Tickets: With multiple bingo rounds, your chances of winning big are multiplied.
1 Raffle Strip: Your entry fee includes a raffle strip, and we'll have additional raffles available for purchase on the night.
The heart of our Charity Bingo Night lies in its charitable focus. All proceeds from the event will go towards supporting three incredible charities:
Marie Curie: Dedicated to providing care and support for individuals living with terminal illnesses and their families.
Hope Rescue: Committed to rescuing and rehoming dogs in need, ensuring they find loving homes and a second chance at life.
Castleland Foodshare: Aiming to combat food poverty by providing essential support to individuals and families in need.
Additionally, there will be a donation pot available on the night for those who wish to contribute further.
Prizes That Make a Difference:
The thrill of winning is made even sweeter when you know it's for a good cause.
With £5 prize money for each game of Hoy and opportunities to win £2 for flyer lines and £5 for full house bingo book lines, every victory counts towards supporting the charities that mean so much to us.
While you enjoy the games and company, indulge in light refreshments that will keep your energy up throughout the night. Savor a variety of teas and coffees to keep you refreshed, along with crisps, cakes, and biscuit bars for a delightful treat.
Join Us for a Night of Impact:
Mark your calendars and spread the word about our Charity Bingo Night. Come with friends, family, or colleagues and be part of an evening that blends entertainment, camaraderie, and the joy of giving back.
Secure your spot today and be ready to shout "Bingo!" for a cause that matters. We look forward to seeing you there!
Together, we can make a difference in the lives of those in need while enjoying a night of excitement and laughter.