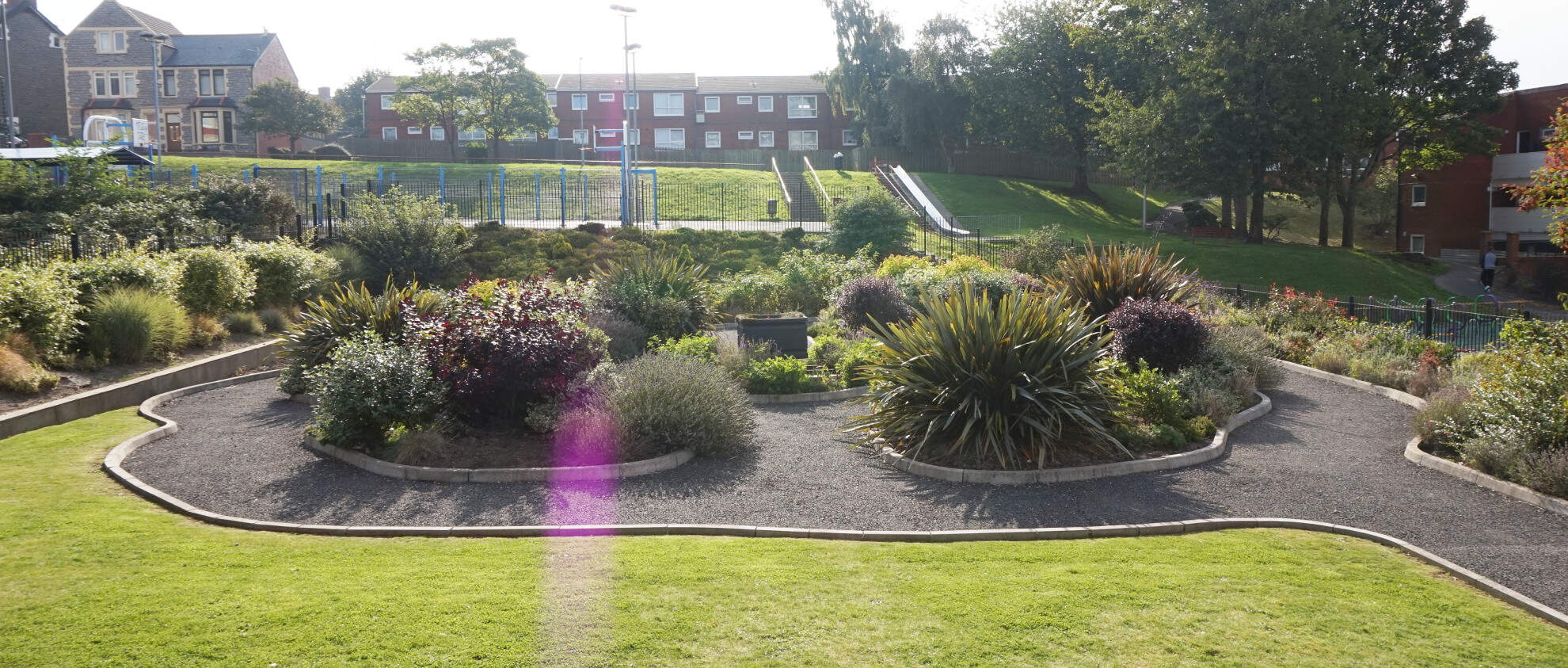 Belvedere Park
A multipurpose Greenspace Managed by Castleland Community Centre
Belvedere Park (formerly The Sensory Garden Project) came to fruition when a research survey was conducted into "Improving the local area". Belvedere Park abuts onto the rear of Thompson street estate and previously housed the Local Authority's nursery and play group building.
The building was demolished in 2003 and Residents made an approach to the Local Authority to release the area for community use. A survey was undertaken by both Residents and the local Youth Service to determine how best to utilise the space. Survey results indicated that 83% of Residents would like to see the land used for development of a public garden.
2003
Old Nursery is Demolished
A Committee was formed in 2005 who began to conceive different ways this project would move forward, not long after, things started to take shape. With the Design team focused on creating a layout/structure for the Garden that best used the space available, the Working Party's job was to help generate funding to build the garden.
The Drop In Centre Manager at the time Eileen Moore completed a bid for a total refurbishment of the existing Castleland Community Centre opposite the Garden's site, and managed to secure a large allocation of those funds for the garden as part of a wider regeneration effort for the area. In 2005 the Sensory Garden Project secured £37,000 from Biffaward to begin works on developing Belvedere Park followed by a further £50,000 released in 2011 to complete the works.
After many years of the Garden being utilised as a quasi-sensory garden, due to budgetary constraints the garden was becoming very difficult to maintain and keep tidy. Additionally after fielding many queries about running events in the garden and a public consultation, the decision was made by Castleland to simplify the garden to create a more usable outdoor space.
Buoyed by COVID-19 and the increased interest in running outdoor activities, we at Castleland completed an Awards 4 All lottery bid for £10,000 to revise the garden into a large lawn area that could be used more in spring and summertime, whilst simultaneously making the garden financially easier to maintain going forward.
2021
The Garden Is Revamped
Thanks to a very generous donation from the National Grid Community Fund we were able to accomplish something that has been a bugbear of ours since the original refurbishment of way back in 2011.
Adding a top layer of tarmac to the pathway!
Asides from looking a whole lot better, the new tarmac should help with weed management, has reduced the drop-kerb height so there is less of a step and there is no longer a lip to the seating area.
Since the simplification of the garden we've seen it being used a lot more, especially by local dog owners which we are overjoyed to see being dog lovers ourselves.